Memoirs of a football manager: Part 4

Like a Moth Drawn to a Flame
I left Glasgow feeling rather depressed when my stint at The Jags ended and during the months which followed I often wondered if I shouldn't end my career as a football manager.

I spent most of my time in Rotterdam where we were really pleased that Feyenoord managed to finish above Ajax in the Eredivisie table, although PSV won the title.

But, more importantly, I was approached early that summer by a club which was facing some incredible challenges.

It was a déjâ vu experience. If you remember, two-and-a-half years ago I had been in a similar situation when I was approached by an unexpected source, who spoke with a broad Scottish accent. What had made me make up my mind then was the challenge Partick Thistle were facing and the incredible Save the Jags campaign.

This time it was a similar challenge which made me change my mind about ending my career as football manager. Only it wasn't a club from Scotland this time, but a club from Wales.

You may be familiar with Swansea's remarkably history so you may know much more about it than I did at the time. You may have watched Jack to a King, the remarkable story of a rag tag group of football fans who saved Swansea City Football Club from oblivion.
Anyway, I must say, I felt like a moth drawn to a flame and - to cut a long story short - before I knew it I had already committed myself again!



One of the encouraging things I found out was that because of my first manager stint at Gillingham - which had been remarkably successful - my reputation in England was still fairly high, even though my second stint in Scotland had not been a roaring success.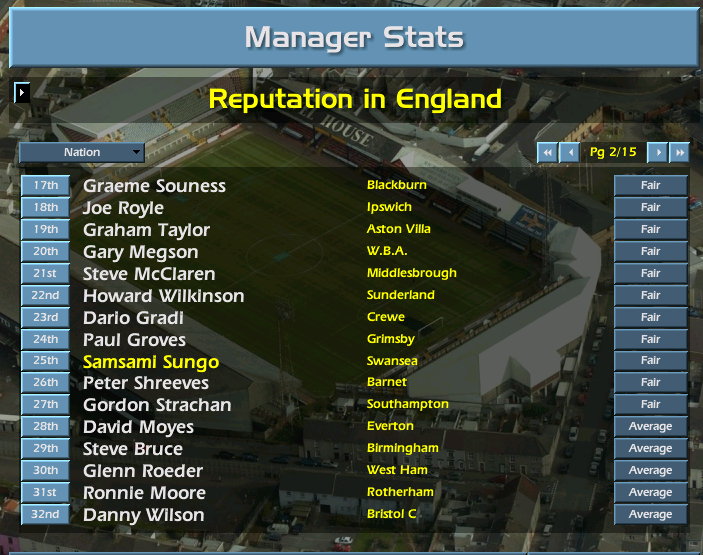 Nevertheless, the Board's expectations were not very high. Swansea City FC were in dire straits as I was about to find out...

This story uses the ODB and non-WibWob tactics against the WW AI Tactic Pack - samsami v2