Memoirs of a football manager: Part 5

Stopping the Yo-Yo Years
And so by July 2006 I found myself back in the Netherlands, albeit not in Rotterdam. But the circle was almost complete.

ADO Den Haag had been relegated to the First Division a year earlier and they had just been promoted to the Eredivisie again. Against all odds, I might add. ADO had ended in sixth place, but by playing above their level they had managed to win promotion through the playoffs.

Now the last thing ADO wanted to become was another FC Volendam, a yo-yo club that was regularly being promoted and relegated. And ADO had a very decent squad to battle against relegation - including a large number of experienced players.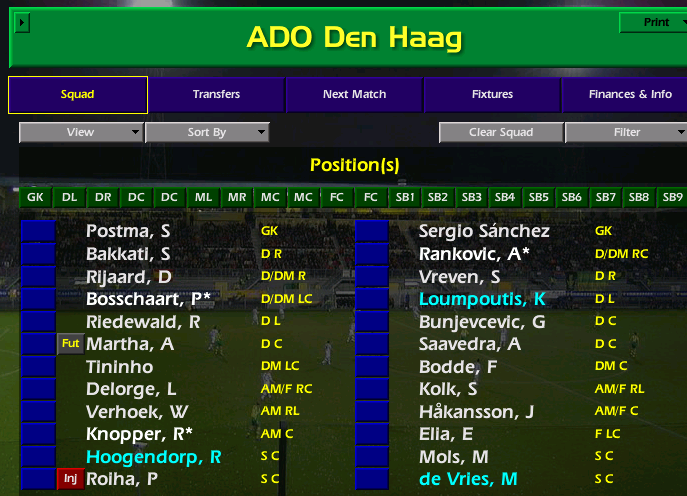 Their most experienced player was Michael Mols (36) who had just played for Rangers for two years. But they also had the likes of Goran Bunjevčević (33) who had played for Tottenham for five years, Stefan Postma (30) who played for Villa and for Wolves, Richard Knopper (28) who had played for Ajax, Tininho (28) and Paul Bosschaart (26) who were both former Feyenoord players, Laurent de Lorge (27) who had played for Coventry and Stijn Vreven (33) who had played for FC Utrecht. And they had Ferrie Bodde (24) who would play for Swansea in later years.

But ADO also had talented youngsters Eljero Elia (19) and Wesley Verhoek (19) who would eventually join Feyenoord.

Interestingly, Feyenoord and Ajax happened to be the first two sides we would be facing...

This story uses the unofficial April 2007 [2006-07 season] Database and non-WibWob tactics against the WW AI Tactic Pack - samsami v2