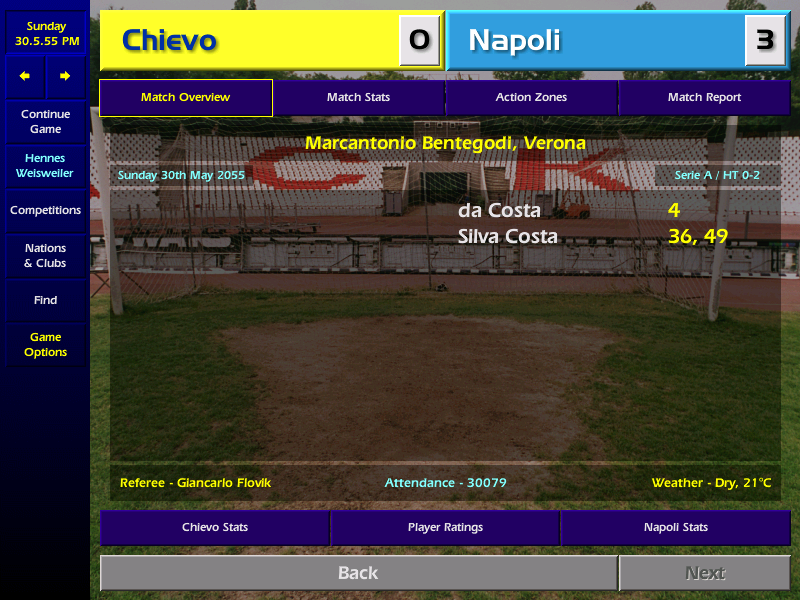 A comfortable win at Chievo on this final day of the season, means that we have defied the odds to win the Serie A title, which completes an impressive domestic double!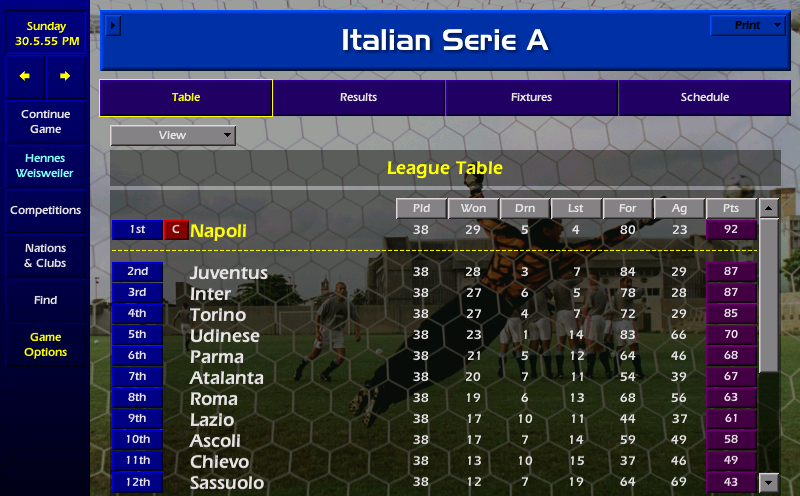 With
Juventus losing 1-2 at Parma
, we didn't need the win as it turned out, but the result was never in doubt.
The outstanding
Andrei da Costa
excelled once again in the position behind the front two, earning a 10 rating and the Man of the Match award for the second successive game.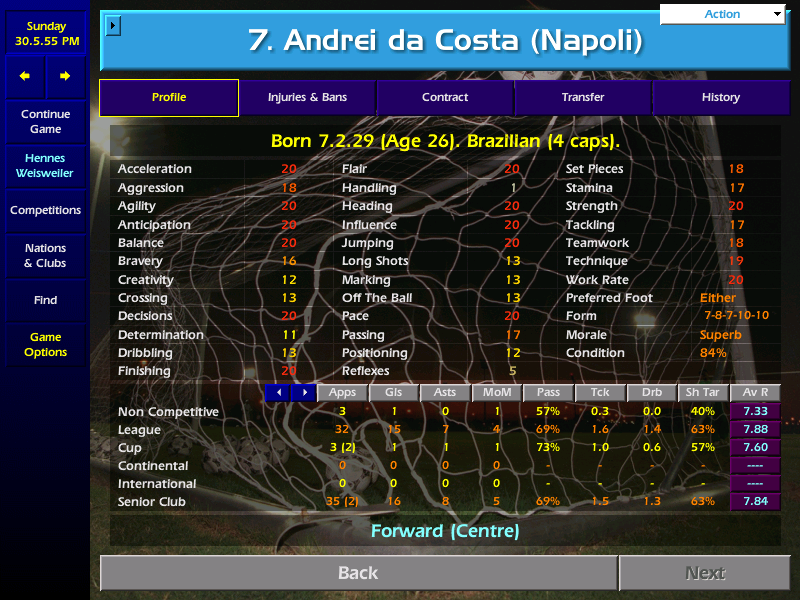 The Brazilian international got us underway in the 4th minute. He received the ball from left midfielder Javier Ríos, went past a defender, and hit a high and hard shot to send us into a 1-0 lead.

da Costa turned provider in the 36th minute, when he headed a near post cross by midfielder Christopher Steinmetz, into the path of striker Sérgio Silva Costa, who volleyed us into a 2-0 lead.

We put the game beyond our hosts in the 49th minute. da Costa headed another Steinmetz cross into the path of striker Diego Vázquez, and the Argentine international put the ball into the six yard box for Silva Costa to head us into a 3-0 lead, which completed the scoring.
Summary of the Season
At the start of the season, I made my expectations clear. I envisaged us being a lot stronger defensively, and getting to around the 90 points mark. We've done exactly that.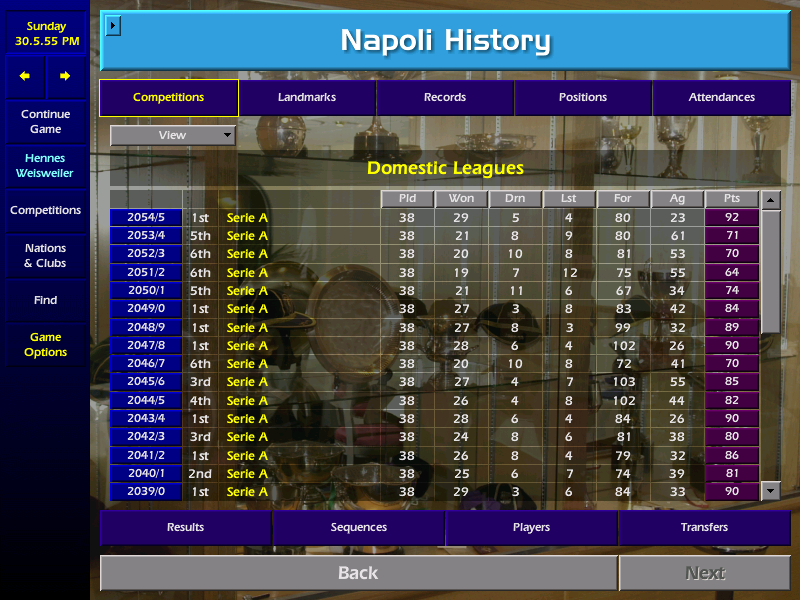 We've lost none of our goalscoring prowess, but as a defensive unit, we've become the strongest in the division. This has been a major factor in us winning the double.
It wasn't all plain sailing. We had a reasonable start to the season throughout
August
and
September
.
October
was a tough month. We crashed out of the second round of the Europa League after failing to score against Belgian side
Mouscron
, then suffered back-to-back league defeats at
Bologna
, then at home to
Parma
.
Our home form was particularly poor. We collected just nine points from our opening seven Serie A games at the San Paolo, culminating in a wretched 0-3 defeat at home to
Juventus
on Matchday 12, that saw the Turin side move ten points clear of us at the top of the table.
We were in the 5th place that we'd finished in the previous season, and looking nothing like title contenders.
A change was long overdue. I messed up tactically, by persevering so long with the attacking 352 formation at home. It was working well enough on our travels - we went on to finish with a record of
W15 D2 L2
of our nineteen away games, starting with that formation only throughout the season - but we needed to do something different at home.
I knew what had worked well for me in the past. I'm comfortable using the three at the back formations. We immediately switched to the 343 formation at home, and won our next four league games. I then switched to the flat 352 formation at home, and we won our final eight league games. That's twelve games after the switch, twelve wins, and just one goal conceded during that run.
Meanwhile, we continued with the attacking 352 formation away from home. Results were good, and we put together a
twenty-one league match unbeaten run, that included a nine match winning sequence.
This was similar to the twenty league match unbeaten run my
FC Köln
side put together in our title winning campaign, which also directly followed a wretched home defeat. (0-4 to
Leverkusen
) That run saw us win thirteen consecutive league games.
The run that my
Napoli
side put together started at the end of
November
. We were still ten points adrift of
Juventus
at the beginning of February, but my
Mentality Monsters
kept going, and a mini slump by the Old Lady saw us close the gap to six points by the end of that month.
Juventus
remained six points clear at the end of
March
, but
April
saw us win at the Allianz Stadium, before our run came to an end with a defeat at
Atalanta
.
Juventus
went into the final five games of the season, four points clear at the top of the table. The odds were against us, but my
Mentality Monsters
had other ideas.
Juventus
lost the first of those two games, while we won our two, to leapfrog the Old Lady and go top of the table for the first time this season, with just three games remaining.
Juventus
weren't giving up. They got an excellent 2-1 win at outgoing champions
Inter
, and followed that up with a 3-0 win over
Bologna
.
We showed that we could handle the pressure though, by winning both of our games, to maintain that two point gap going into the final game. We also comfortably beat a good
Torino side in between those two games, to lift the Coppa Italia.
The pressure was on. Failure to win at
Chievo
could've handed
Juventus
the title, but we got the win, and the Old Lady lost, and remained the bridesmaid once again.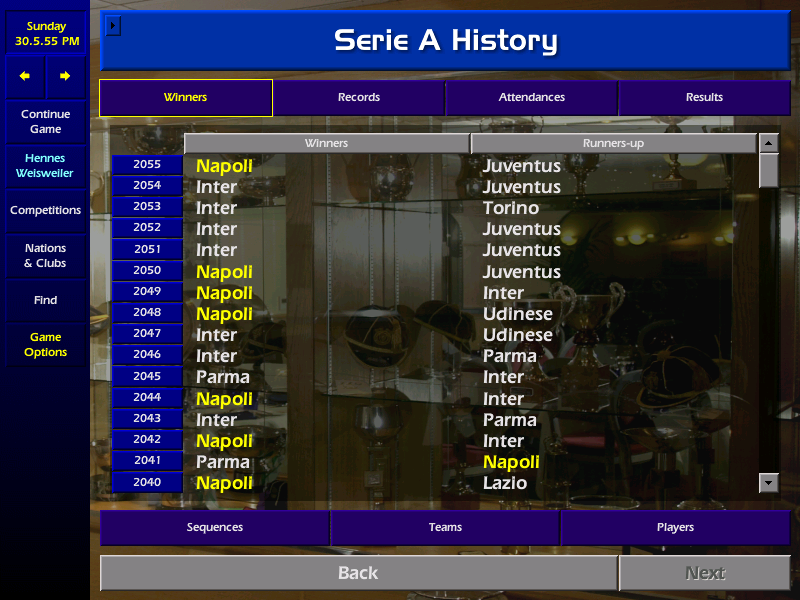 Conclusion
Although I give myself credit for recognising the hidden attributes required, and signing the players that helped us to become the most solid side in the division, I should point out four of our best players this season are players that I inherited. These are
Marcos Ruschel, Sérgio Silva Costa, Andrei da Costa,
and
Diego Vázquez.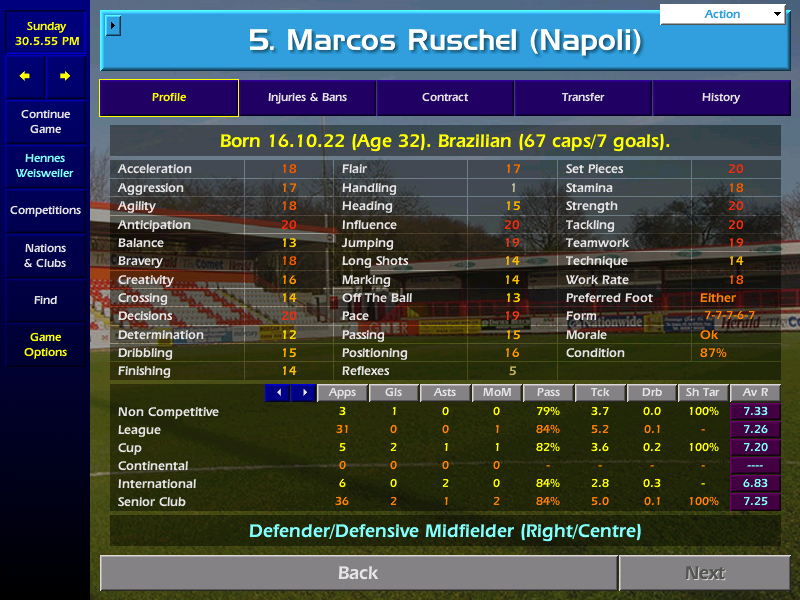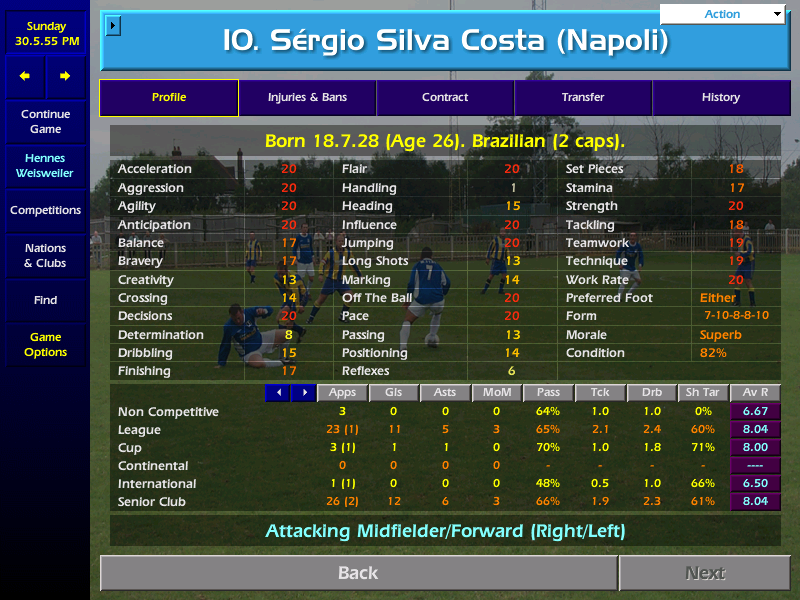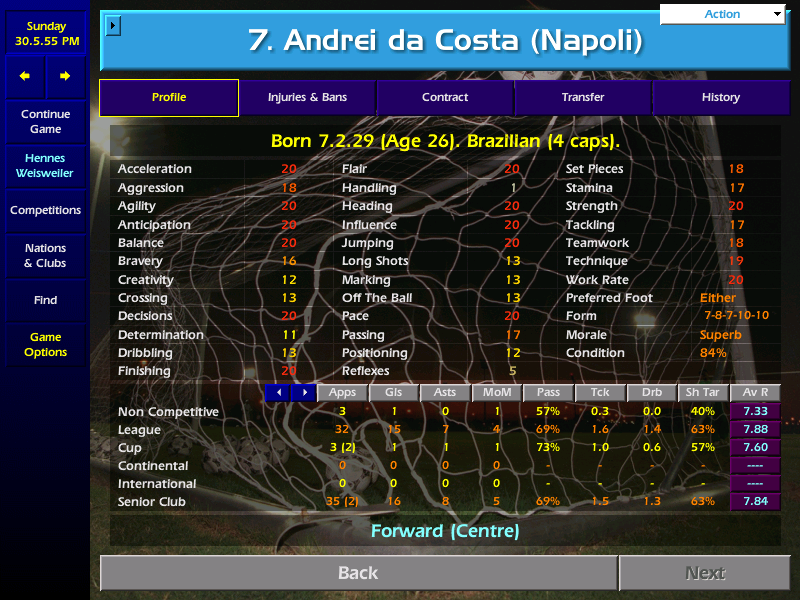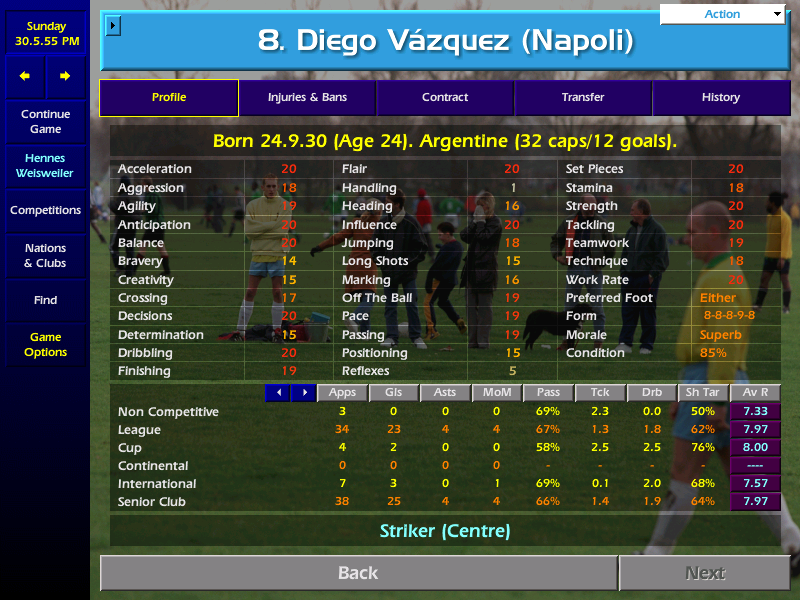 Those four players have high values for
Consistency
and
Important Matches
, but a value between just 3 and 9 for
Pressure
. The low value for this attribute didn't affect them at all in those final three games after we went top. If anything,
da Costa
was even better, picking up 10 ratings and the Man of the Match awards in our final two games.
I guess that it's possible that the combined high value of
Pressure
for the other seven players, meant that there was enough in the XI to see us through.
Once we sorted out our form at the San Paolo, consistency was very high. We
W23 D2 L1
of our final twenty-six games at home and away.
Other Key Players
Goalkeepers
Serhat Arikan
and
Teddy Rame,
along with central defenders
Jonatan de Oliveira Cardoso, Maximilian Schulz
, and
Kléber Marques da Silva
have been excellent additions, helping us become so solid.
I've also highlighted throughout the season how well midfielders
Carlos Llorente
and
Diego Giménez
have done. They have provided goals and assists, and have worked hard to protect our back three.
The best signing I made was
Christopher Steinmetz in January for just £4.7M.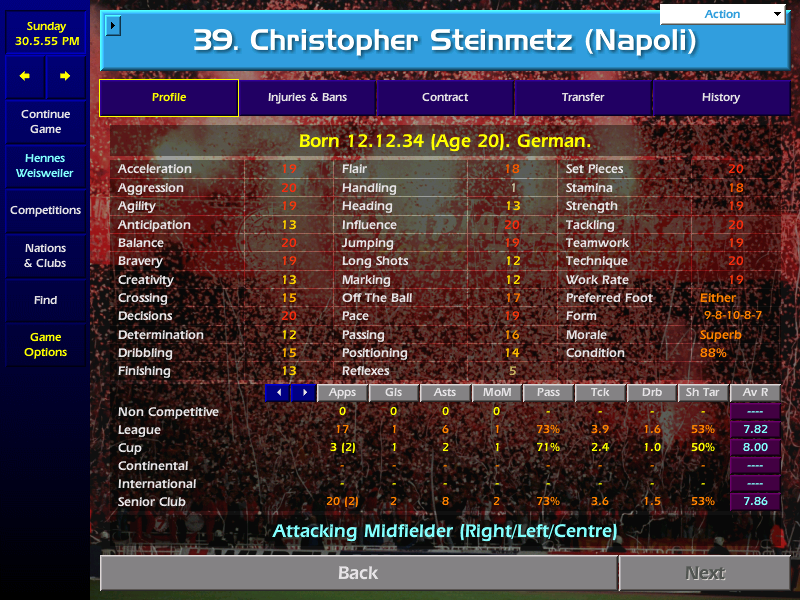 His ability to provide assists and win the ball in the centre of midfield has helped us maintain our great form throughout the second half of the season.
FC Köln News
My former club finished the season well. They stayed unbeaten in their remaining six games, to secure 2nd place.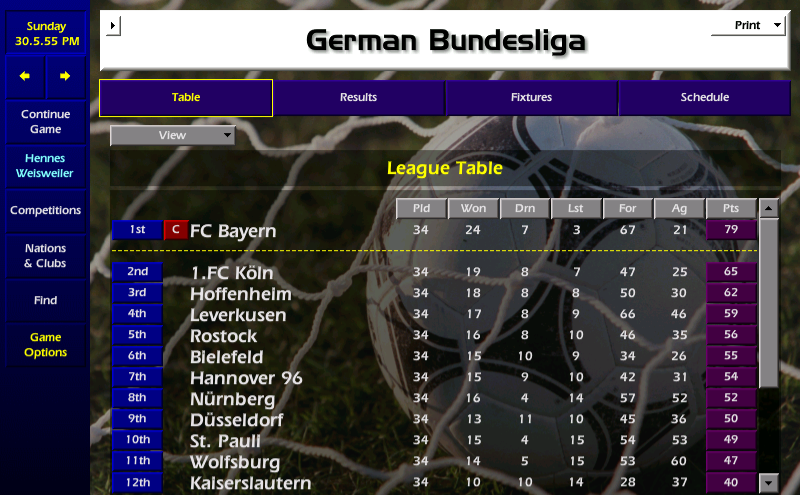 You've probably noticed that
Borussia Mönchengladbach
have been relegated. This comes just five years after one of my successors led them to the Bundesliga title, and fifteen years after I led them to their fourth and final Champions League title.
Back to
FC Köln,
and they beat
Wolfsburg
to lift the DFB Pokal.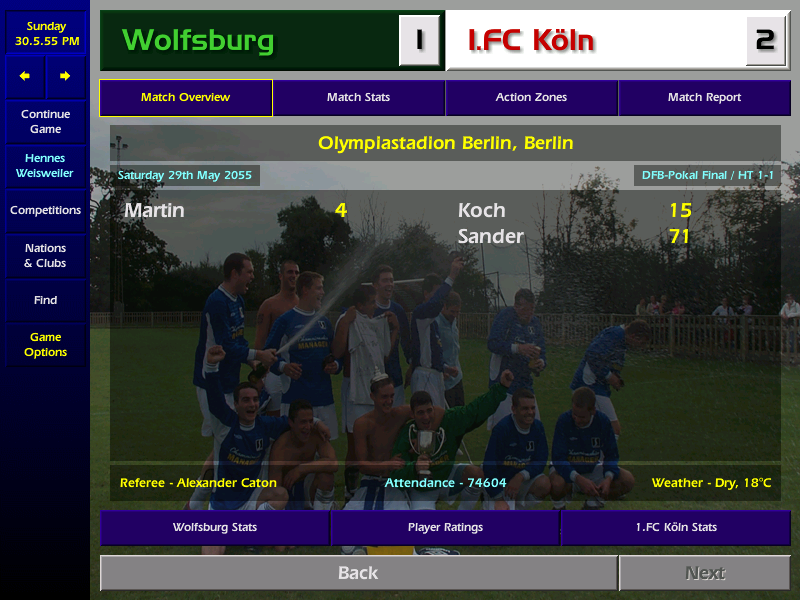 Not a bad season for them in the end, especially considering the amount of player departures they had to endure.
The End
This is it now. This marathon 36 season save has taken me over two years to complete. Story writing has taken up a lot of this time.
Thank you for reading, and thank you for all of the encouragement and feedback. I'll have a little break from story writing now, but plan to start a new one in the autumn.